Installation:
Did you know...
We offer full service, complete, and custom kitchen or bath remodeling and renovation solutions!
Granite Works, LLC is the premier one stop shop for all of your kitchen and bathroom remodeling or renovation needs.
Build your dream kitchen or bath solution...
WITHOUT THE MESS OR ANY TROUBLE!
Granite Works, LLC has years of experience with the installation of countertops, backsplashes, bar tops, sinks, and more!

Granite Works, LLC provides granite countertop installation and remodeling services to dozens of cities in the Reading, Allentown, and Philadelphia region of Pennsylvania. We offer a wide selection of cuts, designs, and colors at an affordable price. We will travel to your home to give you a free quote and provide you with pictures and samples to help you choose the best option for your home project. Our experienced staff is here to help you every step of the way and ensure that you are satisfied with your service.

It's easy to get started! Contact us today for a FREE ESTIMATE!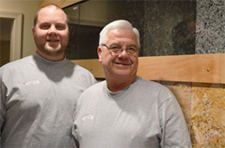 Gallery of Completed Granite Works Installations:
With so many completed installations to present, we have created multiple galleries to choose from.
Every installation we've done is sorted by the month and year we completed the work, and by material / surface type. We have Granite, Marble, Soapstone, Travertine and Quartz all featured in our Galleries.
You can also browse galleries featuring our Edges, Kitchens, Outdoor/Patio, Bath, Fireplaces, and more.
Material / Surface Type Galleries
We've now fabricated and installed over 400 different material and surface types in just the last 4 years alone! Use the dropdown menu to select the material or surface type you're considering and view examples from multiple installations!
Edge Galleries
We now have several different Edge Galleries available featuring various edges and granite edge work on a variety of material and surface types from installations done by Granite Works.
Beavered Edge | Honed Edge | Laminated Edge | Leathered Edge | Mitered Edge | Ogee Edge | Seamless Edge | Waterfall Edge
Kitchen and Bath Installation Galleries
2020
January | February | March | April | May | June | July | August | September | October | November | December
2019
January | February | March | April | May | June | July | August | September | October | November | December
2018
January | February | March | April | May | June | July | August | September | October | November | December
2017
January | February | March | April | May | June | July | August | September | October | November | December
2016
January | February | March | April | May | June | July | August | September | October | November | December

2015
January | February | March | April | May | June | July | August | September | October | November | December
Specialty Installation Galleries
Fireplace, Hearth, Mantel and Surrounds