Granite and stonework edge solutions!
GraniteWorks is your one stop shop for all of your custom edge needs.
We have been custom fabricating kitchen and bathroom components such as countertops, sinks and more from granite, marble and a variety of other materials for many years and even offer professional installation so your next remodeling job stands out above the rest!

Choose from a variety of edge types including Ogee, Waterfall, Honed, and more!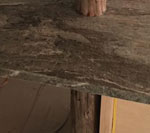 A  leathered surface usually has a soft sheen to it, but is much less shiny than the glossy look of a polished slab.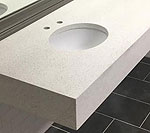 Seamless edge between the top of the countertop and a second piece. Join a waterfall, or allow patterns to "wrap" horizontally or vertically.