Installation:
Build your dream kitchen or bath solution...
WITHOUT THE MESS OR ANY TROUBLE!
Granite Works, LLC has years of experience with the installation of countertops, backsplashes, bar tops, sinks, and more!

Granite Works, LLC provides granite countertop installation and remodeling services to dozens of cities in the Reading, Allentown, and Philadelphia region of Pennsylvania. We offer a wide selection of cuts, designs, and colors at an affordable price. We will travel to your home to give you a free quote and provide you with pictures and samples to help you choose the best option for your home project. Our experienced staff is here to help you every step of the way and ensure that you are satisfied with your service.

It's easy to get started! Contact us today for a FREE ESTIMATE!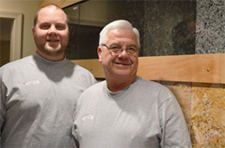 Gallery of Mitered Edges:
Mitered Edge Installation Gallery

Click on any photo to open it larger in a shadowbox with white background. You can also navigate through all images within the gallery when in that mode.